SIX PACK, Six Pack tube replacement nozzles for #20 threads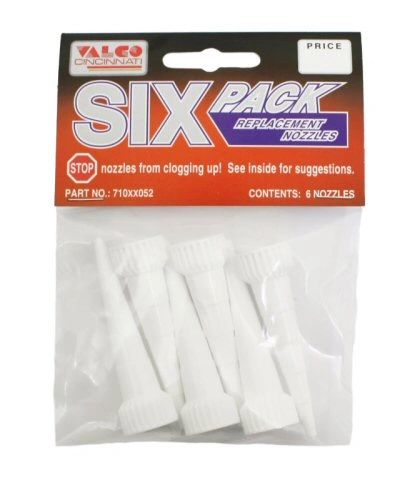 SIX PACK, Six Pack tube replacement nozzles for #20 threads
Use the Replacement Nozzles in Valco's Six Pack to keep material as good as new. 
These nozzles fit all Valco tubes of adhesives and sealants, or any tube with #20 size threads. 
In addition to keeping your material workable, replacement nozzles can be cut to different sizes and shapes for various applications.
To slow down the curing process of silicone:
Place an un-cut replacement nozzle over the used nozzle. 




This slows the silicone curing process. 




If the silicone does cure in the nozzle, remove the nozzle and replace it with a new nozzle when ready to use. 




After the silicone has cured completely, use a pair of needle-nosed pliers to remove the hardened core and your nozzle is once again ready for use.