ALL-IN-ONE RTV SILICONE, Aluminum 3oz tube & nozzle on card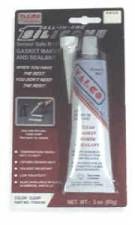 ALL-IN-ONE RTV SILICONE, Aluminum 3oz tube & nozzle on card
ALL-IN-ONE SILICONE 

Valco has simplified your purchase decision with one premium-grade RTV silicone that does it all. 
Now there's no need to have a complicated assortment of specialized RTV sealants for every-sealing job. 
Choose from three colors including;aluminum, black and clear. 
Every color performs at high temperature, has a low volatility and is oxygen-sensor safe. 
All-In-One Silicone stands up to any automotive application where RTV silicone is used. 
All-In-One Silicone is available in either turbes or cartridges. 
For tubes, Valco's Tube Grip can be used for added squeezing pressure, increased control and less mess. 
Cartridges are equipped with a detachable nozzle that keeps silicone usable over a longer period of time. 
Extreme All-In-One Silicone meets GM specifications.