MAGIC MIX SPEED WAX 16oz bottle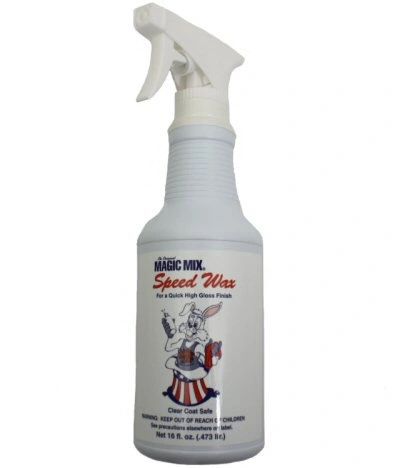 MAGIC MIX SPEED WAX 16oz bottle
Just about every polish delivers a shine, but how hard do you work at achieving that shine? With Magic Mix Metal Polish®, less work is required to achieve an even better shine. Some say polishing time is reduced up to 80 percent—that's why its been dubbed "The Lazy Man's Polish!® "

Available in a handy spray bottle, 

Magic Mix Speed Wax

 is a quick detailer that contains wax. Speed wax delivers a shine that protects between hand waxes and washings. Both products are safe on clear-coat surfaces. Speed Wax can be used on hot or cool surfaces for a wet, glossy appearance. It also works great on glass.
Magic Mix Metal Polish delivers shine and protection to aluminum, stainless steel, chrome, gold, silver, copper, brass and magnesium. Other paste-type polishes only permit small areas to be shinned at once. They cannot be allowed to dry. If allowed to dry, the polish becomes very difficult to remove. But with Magic Mix Metal Polish, users can polish an entire surface, allow it to dry and simply dust it off. What's left is a beautiful shine without the repetitive rub-on, wipe-off exercise required by other polishes.
For tough oxidation and stains, the metal surface should be cleaned and pre-treated with Magic Mix Metal Prep/Cleaner. Magic Mix Metal Prep/Cleaner makes using any polish less labor intensive, while delivering better results.Magic Mix Body Wax gives painted and polished surfaces a protective coating (without buffing) that lasts for several months.
Magic Mix Aluminum Brightener is a foam cleaner that brightens wheels, racing engines, engine blocks, fuel tanks, fishing boats and more. Its thick foaming action leaves a radiant surface with every use, and no residue is left behind.